Want to use a traditional paper timesheet for time tracking?
Dowload a free Excel timesheet template by giving your e-mail address. You will receive right away the template directly to your inbox.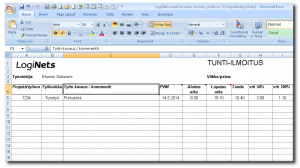 Error: Contact form not found.
OR Are You Interested in Electronic Time Tracking?

Did you know that time tracking can be done electronically with a mobile device? No more paper based timesheet. Employees can report work hours with their mobile phone in real-time.
Time tracking software's pros:
Get rid of paper timesheets and unbilled work hours
More accurate time tracking
Mobile and location based time notes