Ensuring the security of a construction site is important for a safe and efficient work environment. A key measure for improving site security is with access control which refers to regulating the movement of people into the construction site. One of the key aspects of site security is access control, which involves regulating the movement of people within the construction site and only permitting authorized personnel to enter.
Whilst it is possible to manage access to sites manually, by for instance checking personnels' IDs as they enter, an electronic site access control system offering precision, efficiency, and enhanced security features. makes the process much easier and more precise. This is why a suitable access control system is an essential tool for the security of a site.
Benefits of Electronic Site Access Control
Electronic site access control systems provide real-time management and oversight of personnel movement. Unlike manual methods, these systems offer several advantages:
Enhanced Precision: Electronic systems maintain accurate records of workers, ensuring precise monitoring of site attendance and working hours.
Theft Prevention: These systems contribute to theft prevention by allowing only authorized personnel access to specific areas.
Automated Reporting: Electronic systems automate personnel data reporting, ensuring compliance with regulations and authorities.
User-Friendly Interfaces: Intuitive interfaces, such as mobile apps and browser-based solutions, simplify access control for both supervisors and workers.
Choosing the Right Access Control Solution
 Selecting the ideal access control system is crucial for effective site management. Considerations include:
Site-specific Needs: Evaluate the type, size, and duration of your construction site to choose a solution tailored to your requirements.
Customer Support: Opt for a provider that offers excellent customer service, ensuring prompt assistance with any issues or queries.
Diverse Solutions: Explore various options such as RFID card readers and mobile app integration to find the most suitable solution for your site.
Advanced Features of Access Control Systems
 Advanced electronic access control systems offer additional features that enhance site management:
Site-specific Inductions: Manage inductions tailored to specific sites, ensuring workers are aware of site safety protocols.
Safety Assessment: Use tools like TR measurements to assess site safety, promoting a safe working environment.
Comprehensive Site Diary: Maintain a detailed site diary, documenting activities and events for future reference and analysis.
Investing in an access control system is an easy way to enhance site security and management. By choosing a suitable solution for your site's needs you can ensure the safety of workers, streamline operations and maintain compliance with regulatory standards.
LogiNets has developed a reliable access control system, especially designed for the demands of construction sites. The Nopsa access control system is a comprehensive solution for a construction site's needs.
Want to find out more about how an access control system could enhance your sites security? Get in touch!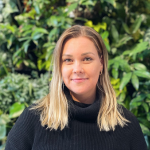 Teresa Heinämaa
Sales and Marketing
Did you enjoy this article? You might also enjoy our posts on: