Material and equipment suppliers in capital projects are typically used to reporting their material deliveries via Excels, emails and phone calls. For example, when a large oil refinery is constructed, the hundreds of different global suppliers typically send details of their materials via Excels. New trends in capital projects materials management include the use of a shared project-wide materials data-base. A shared materials tracking system might be a a completely new work process and technology for many suppliers. The project business environment, like other business climates, can be characterized by constant and accelerating change. Handling internal employee resistance to changes can be difficult, but implementing change for external stakeholders can be much more challenging. How do you get your material suppliers on board with adapting new and modern ways of working?
In our past blog posts and webinars, we've extensively discussed the benefits of a shared materials tracking system in capital projects. When all project parties have access to real-time data on material deliveries, communication within the project network is transparent, potential issues with deliveries can be detected early on and most importantly, project budgets and timelines can be easier to meet, because you avoid last-minute air freight deliveries and contractors spend their work-time on productive project work rather than tracking down materials. However, when project teams discuss implementing a project network wide materials data-base, one of the typical key concerns is how they will be able to get their material suppliers on board with using a new system. Capital projects can have hundreds of material suppliers globally – and one of the key factors in being able to utilize data in a shared materials tracking system is that suppliers report their material deliveries accurately. In this blog post, rather than focusing on our tips to successfully onboarding suppliers to new systems, we will cover the material suppliers own experiences of adapting new and modern ways of materials management.
Feedback from material suppliers on new trends in capital project materials management

Supplier feedback on using a new and modern materials tracking tool has been collected from our yearly customer satisfaction surveys and system onboarding feedback surveys. Below we've listed the most commonly mentioned benefits by material suppliers of using a common materials management system:
Material deliveries and their contents can be easily traced by all project parties, which has led to less back-and-forth emails with the contractors and the end customer

A common data-base eases forwarding processes and delivery tracking

Handling large amounts of data on a common platform is easier and more efficient than handling data using Excels
Below you can find results from satisfaction surveys sent out to 475 material suppliers between 2020-2021.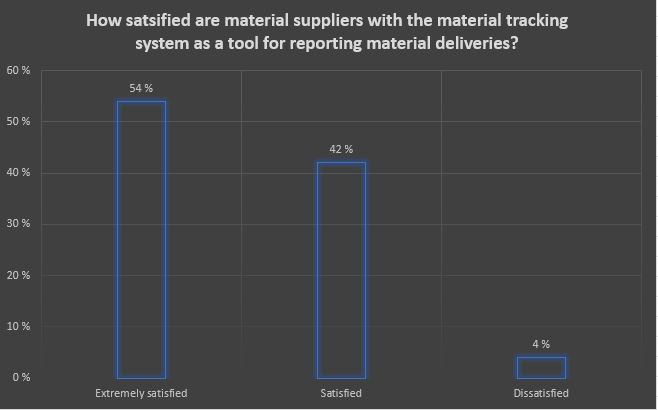 Even though it is the first time I have used your system, it was easy to handle and to create the packages, containers and shipments. I have only been in contact with your support one time and did then receive an answer the same day, that solved my problem. Excellent!
It's an insanely good system. The benefits gained from using the system are huge, running a large project without such a system would have been difficult. The material tracking system is easy to use (after the initial onboarding ? ). Using the system reduces the risk of errors compared to doing the same things with excel templates.
Success in heavy-industry organizations can often be linked to the desire to constantly evolve- this is also true in the case of material suppliers for EPCM projects. We've seen this throughout history in other industries as well, for example, Kodak used to dominate the camera industry, but their failure to evolve and jump on the trends of digital cameras and smartphones has led to them losing their prior marketplace. The only guarantee in life and business is that things will change- the companies willing to change with the shifting technologies and customer demands are on the right path to success. And the results speak for themselves- material suppliers who go above and beyond for their end customer and are willing to adapt to new trends in capital projects win the large contracts again and again. 
Did you enjoy this blog post? You might also want to read our articles on:
Want to discuss this topic further?
Veera Huovinen
Project Supply Chain Specialist
Or read more about our Material Tracking System