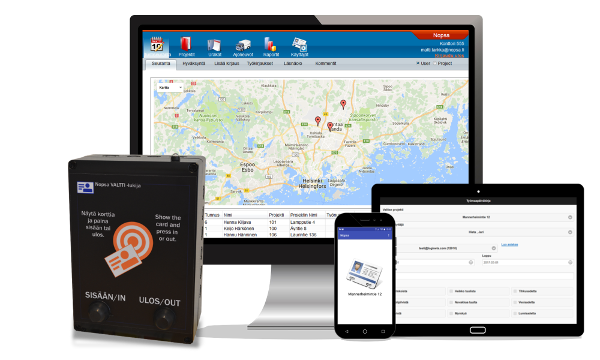 Tight competition and measures related to the gray economy's prevention have brought new challenges for the construction industry. Authorities require a personnel and attendance register and access control for construction sites. Work hours must be reported for payroll and cost monitoring. Competency registers must be up to date, the inductions taken care of and construction site activities documented. All because of occupational safety reasons. Traditional methods work, but place an unnecessary load on the management. How to ease the routine of the construction site personnel?
NOPSA Access Control System is an easy-to-use solution for construction site access control and safety management. It is suitable for all size projects. The software entity includes reader devices and / or mobile services, a cloud-based software for project and data management including support services.
NOPSA lets you know in real time who is at the construction site. You can print hourly itemized lists when you need them and take care of the authority and occupational safety obligations. Exact real-time reports are a good basis for offer calculations. The hours can be transferred to the payroll software. This turnkey product can be constructed and ready to be shipped to you the next day.
The Nopsa VALTTI reader is made to last at the site whatever the weather. It is the result of many years of development and manufactured in Finland. Our customers say that the device is reliable and robust. Finally the reader is quick to install – it is ready for use on site in minutes!
Easy and flawless data collection
Real-time information on construction site
Reporting made easy
Easy logging methods on construction site
Exact hourly control reports when needed
No more missing timesheets
Less manual work and errors
Exact hourly control and hourly itemized lists electronically to payroll
Clear reports from the main contractor
Managing authority obligations on time and reliably
Success Story – Case Icopal Katto Oy
Challenge: Icopal Katto wanted to smoothly manage the data collection and attendance for both its own employees and its subcontractors. One of the largest roofing contractors in Finland, the company has in the region of 600 construction sites annually. Their main needs were access control on the sites and monthly employee data reporting.
Solution: The Nopsa VALTTI smart card readers were designed and implemented for monitoring attendance and reporting employee data.
Benefits: As a result real-time data on individuals working at the construction site gives the client complete control and allows easy management of information. Above all working hours can be controlled more precisely with an electronic access control system.
"The system facilitates daily operation – access control and reporting are handled electronically. The biggest advantage of the access control system is in the fact that I can focus on the project work."
"Using the NOPSA software has been easy and the customer service is excellent. The deployment is simple because the software and the reader are delivered ready for use. In addition, the price of the system is competitive. I do recommend it."
"Nopsa eases daily life so that we can see where and when employees are working. We get fast and real time reporting. I absolutely recommend it and have been doing so already over 10 years."
Frequently Asked Questions
How can I order the Nopsa system?
Order as you see fit:
We will gladly answer to any questions. You can also request a company specific quote.
What kind of infomation is needed for implementation?
For the deployment we only need your employee and project information.
What is a SaaS service?
SaaS (Software as a Service) refers to the acquisition of software as a service instead of the traditional license-based method. Customer-specific production environments do not exist, but the same production environment serves several customers. Customers use SaaS software via Internet browser, so the implementation of the software is easy. LogiNets' services are offered in SaaS model. Separate software installation is not required, so the introduction of the services is easy.
Interested?
Then get in touch. Our experts will be happy to help!