Personnel and vehicle gates for construction sites
LogiNets Oy is the representative of Swedish Cami Gruppen AB's construction site solutions in the Finnish market.
Pyreerna full-height turnstile
A robust and cost-effective turnstile for access control of personnel traffic on construction sites.

A control unit designed for northern conditions
Lightweight and smooth-running turnstile mechanism
ID card slot in and out
Move from one place to another with a forklift
Surface treated with gray powder paint
The heating element also guarantees the operation with very low temperatures
Technical information

Measurement: 1490 x 1240 x 2335 mm

Throughput width

: 500 mm
Rotation angle: 120 °
3 blades, 9 arms in each
Capacity: 10-25 persons / min
Delivery form: two ways
Power: 110 / 22ov. 60/50 Hz. AC (% i 10) 24V. 1
Consumption: 1W max 60W in standby mode
Sierra Nevada sliding gate
Sierra Nevada is a cost-effective, lightweight, fully welded steel-grade sliding gate solution. Sierra Nevada can withstand harsh work and weather conditions and can be lifted and moved by crane or forklift truck. Available as both manual and motorized.
Technical information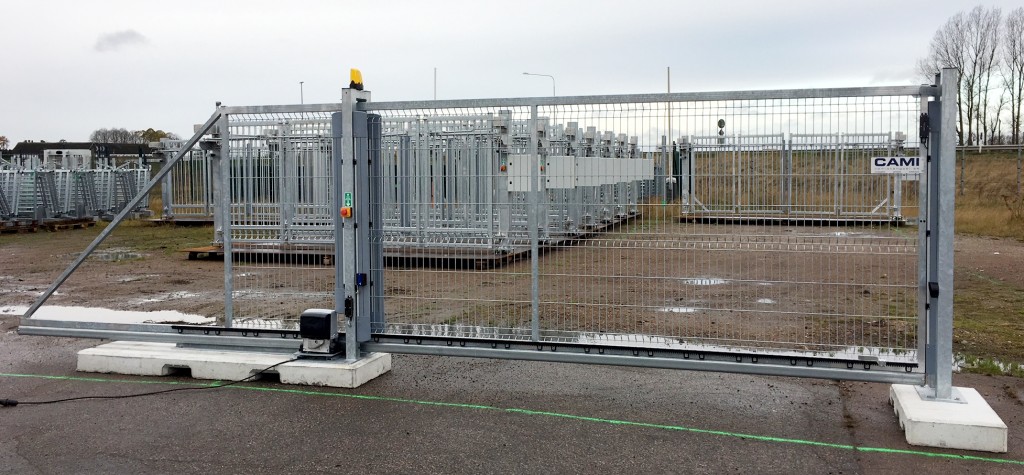 Measurement: 5000 X 2000 mm
Overcliming obstacle: three rows of barbed wire
Sizing disk: 1000 x 7000 mm
Himalaya folding vehicle gate
The Himalaya-folding gate is a fast-opening and spacious vehicle gate for construction sites. The gate takes less space than the sliding gate, due to folding doors. The fully welded steel structure of the Himalaya gate is designed to withstand the tough working and weather conditions of the North. The door can be lifted and moved by crane or forklift to a desired location on site. Power on, and the gate is ready for use. The Himalaya-folding gate is delivered pre-installed and tested.
Gate opening and closing works with VALTTI reader and with company-specific access control cards. As a safety guarantee, the gate is equipped with a power transmission and safety system, according to Nordic standards.
Watch the video on how the gate opens and closes.
Technical information

Measurements: 2000×6000
Open measurement: 5000 mm
Height: 2300
Power: 230V-10A
Overcliming obstacle: Shark teeth
Delivery: Plug & Play
Need help with choosing the right solution? Contact us and request a quote. Our experts will be happy to help.