FAQs
The Material Handling System (MHS) is modern tool for managing material deliveries in capital projects. It covers the whole logistic chain from procurement to site installations. The software has been developed for project managers, project engineers, material suppliers, forwarders and project warehouse managers. The features of the software have been developed with the latest technologies based on collaboration with leading Finnish heavy industry companies, interviews with hundreds of construction site professionals and customer feedback. 
How long has the software been in use in capital projects?
The Material Handling System has been in use in international capital projects since 2003.
What size investment projects have used the software?
The Material Handling System is scalable for different size projects. The smallest projects have had around 50 containers delivered, while larger projects have received over 5000 containers.
Which languages are supported?
The software is available in Finnish and English.
Customer support materials such as user guides and video guides have been made in English, Finnish, Swedish, Spanish and Chinese. It is possible to get user training materials translated into different languages, depending on the needs of your project. 
Which organizations has MHS been developed with?
MHS is a result of the HIIPS project (Heavy Industry Intelligent Project System).
Alstom Finland Oy, Andritz Oy, Finnlines Oy, ISI Industry Software, Kvaerner Pulping Oy, Mercantile KSB Oy, Metso Paper Oy and Wärtsilä Oyj have participated in the HIIPS project.
How are new users trained to use MHS?
There are two different options for training new users, based on your budget and rescources (project office staff, suppliers and project site employees):
User trainings can be provided for key users within your organization. These key users will be responsible for on-boarding new users to the project and the MHS software. On-boarding videos and user training materials will be provided. 
LogiNets can arrange weekly online training sessions for new users via Teams.
Which user roles are supported?
There are three different basic user roles in MHS:
Project office
Material suppliers
Warehouse managers and project site staff
How are automatic packing lists formed?
Packing lists and lables are created automatically in MHS, when packages, containers and shipments are formed. Packing lists, container specifications and master shipping reports can be customized to meet each individual projects' requirements, so administrative time does not have to be spent on creating forms to match project requirements.
How fast can the system be deployed?
Your personalised MHS platform can usually be deployed one week after order confirmation. 
Deployment time depends on the personalisations that you wish to apply to MHS. 
I'm only interested in certain modules that you offer, can I only purchase some of the modules you provide?
MHS can be scaled to the needs if your organization. 
We can build MHS with the modules you require for your project. 
Reach out to our sales support, we are happy to help!
How is identification of products handled?
Material suppliers can print and attach product identification labels to individual products or packages. The lables include a QR code. The QR can be scanned at the project site to give detailed information about the product. 
What types of reports does MHS have?
MHS includes the following reports:
Incoming deliveries
Master shipping
Containers
Packages
Follow-up reports
Assembly monitoring 
How are shipment bookings with freight forwarders handled?
We offer multiple options for integrations with freight forwarders, depending on the needs of your project.
 In past projects, we have implemented integrations using REST inetraces.
We have also sent automatic shipment booking emails to forwarders. 
What is the master search module in MHS?
The Material Handling System works as a single data-base for all material deliveries within the project. In the master search module you can search and filter results with multiple attributes such as product numbers, purchase order numbers, package numbers, container numbers etc.
If a position is packed, you will be able to see the package, container and shipment it has been allocated to. You will also see the ETA and ETD. 
What is the dashboard view in MHS?
 The dashboard displays real-time information on current progress of material deliveries. The dashboard can be customized based on the role of the user. The open task list on the dashboard intuitively guides the user to complete necessary steps to ensure that the timeline of the project is met.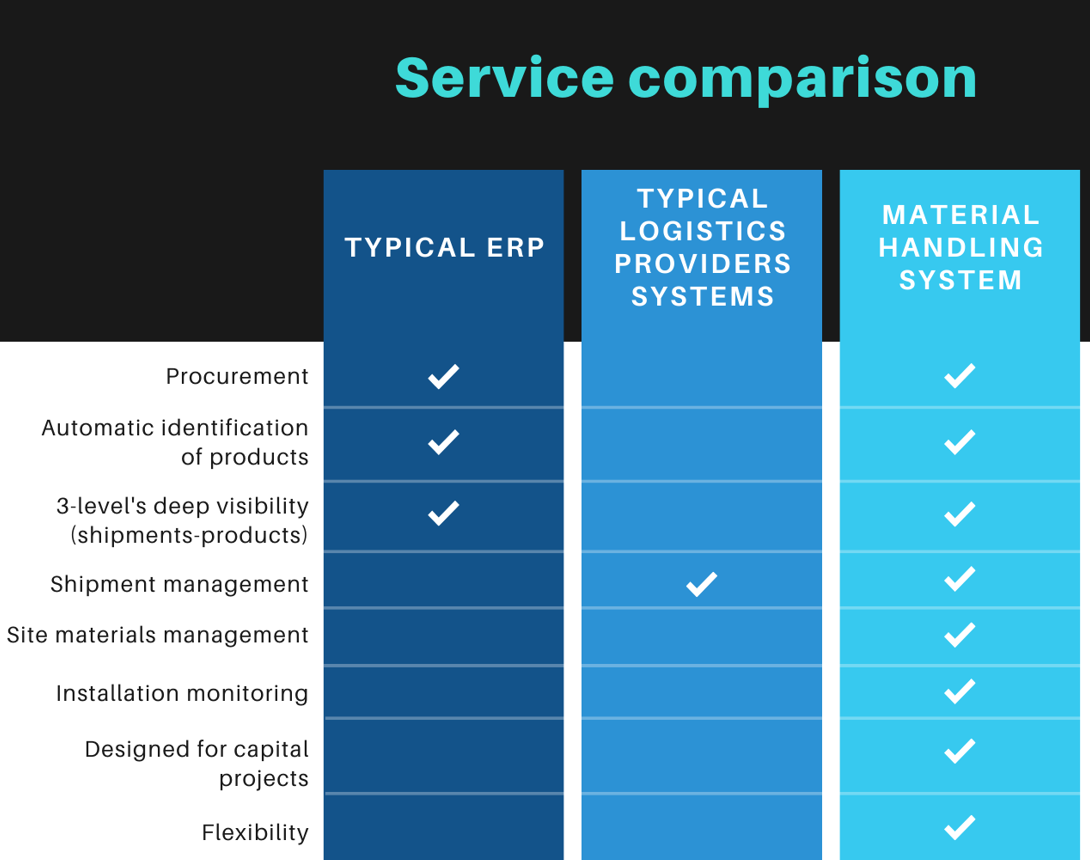 Are you looking for a LEAN- materials delivery management solution?
Book a demonstration with our Material Flows consultant. We deliver Material Handling Solutions with over 20- years of experience.