VALPAS Field Force Management
Software as a SaaS
Diverse but Easy to Use
Ready for Use in a Week
Request a Call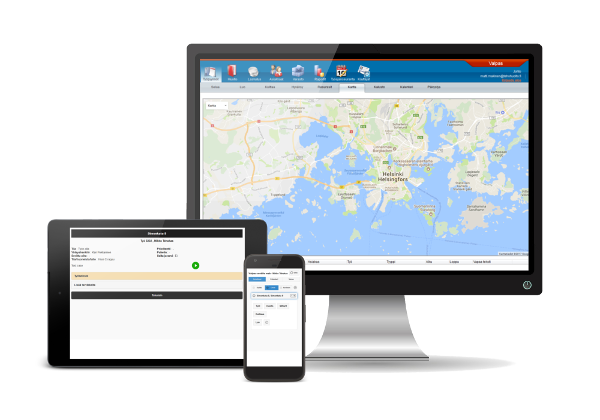 VALPAS is a field force and quality management system developed for technical maintenance companies. Software users are typically companies that provide maintenance services for housing companies, commercial properties and/or industrial plants. The software is provided as a cloud service so all the latest features are available with no additional software updates.
The software includes all the functionalities needed by a technical maintenance company to efficiently manage maintenance, materials and resources. Unlike many traditional ERP systems, Valpas has open interfaces for communications between various software and operators.
VALPAS adapts to the needs of both small and large companies without investments into hardware or setup fees. With our competent and free customer service we can ensure a smooth user experience also when support is needed.
Allocation of jobs based on workload and location

Automated communication for both employees and customers

Faster and more accurate billing
Job requests in real-time to your mobile device and a clear job list
Easy job reset and documentation right on the worksite
Transfer of work to subcontractor when needed
Maintain maintenance processes comprehensively
Customized profitability for customer
Time spent on worksites
Better customer satisfaction
Leave job requests through the most convenient channel
Fast response times and up-to-date information on the status of the work
Smooth and transparent service as well as solid report of work done
Success Story – Case Tontti-Palvelut Oy
The challenge for the company was managing the field force for property maintenance and billing. The company had a heavy system that did not quite fit their needs. Work orders and work hours were reported on paper.
The solution was the implementation of the Valpas software in 2012. Now the company's service book management and billing can be done with just one system. The service men receive work orders directly in real-time into their mobile phones.
The benefits include transparent and more efficient work task management, data entry only to one system and quick invoicing of completed jobs. Also mobile work hour reporting clearly speeds up payroll.
Interested?
Then get in touch. Our experts will be happy to help!