NOPSA Time Tracking for Field Work
Software as a Service
Suitable for Field Work
Diverse but Easy to Use
Request a Call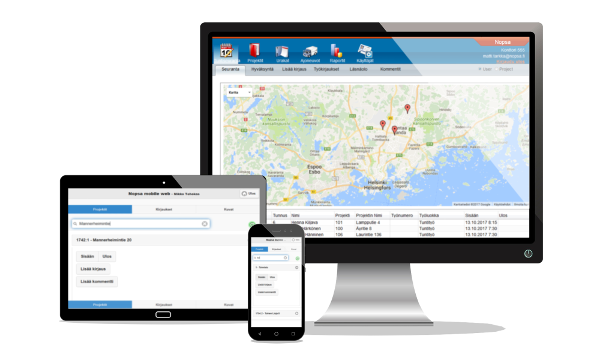 NOPSA
is a versatile and easy-to-use time tracking and work hour reporting software. Characteristically the companies using the system have field workers in changing locations. It is important that payroll and billing are based on actual worked hours. Time stamps are location based which is beneficial for resource management.
Time stamps on the field are usually done with a mobile device. Device independent option for recording work hours is on a mobile device's browser. For GPS-based time tracking there are native applications for Android, iPhone and Windows Phone. Simplest way for the subcontractors to report work hours is by SMS messages. For larger projects there is also an electronic card reader.
Reported work hours can be seen in the system in real-time. If necessary, the entries can be modified and approved. After that the entries can be used for payroll, invoicing and follow-up whenever needed.
Vehicle tracking with a gps tracker or a mobile device. Read more…
Exact work hour control
Clear reports for billing and payroll
Real time information on field worker status
No more missing timesheets
Less manual work and errors
Exact hourly control and hourly itemized lists electronically to payroll
Less manual work and remembering (no more filling paper timesheets)
Time notes with a mobile phone or tablet
Eases communication between office and employees
Reliable work hour and trip log reports
Clear reports on work done
Success Story – Case Koiviston Vihertyö Oy
The challenge for Koiviston Vihertyö Oy was manual time sheet reporting and payroll which took a lot of time. Work hour reports were late and time was wasted.
The solution was the deployment of Nopsa software in 2005. Work hours are now reported with mobile phones. Independence from fixed devices is important for companies that have field workers in several locations during the day.
The benefits include more accurate and faster time tracking and payroll. The system's deployment was easy and also the employees have been happy with it. Other used features include site diary and tax official reporting.
"We got rid of paper reports and trip logs. It's handy when you can make time notes with a mobile device. It is easy to modify entries in the web interface. With the system you can also keep track of where each service man is located."
"Nopsa eases daily life so that we can see where and when employees are working. We get fast and real time reporting. I absolutely recommend it and have been doing so already over 10 years."
"Using the NOPSA software has been easy and the customer service is excellent. The deployment is simple because the software and the reader are delivered ready for use. In addition, the price of the system is competitive. I do recommend it."
Frequently Asked Questions
How can I order the Nopsa system?
Order as you see fit:
We will gladly answer to any questions. You can also request a company specific quote.
What kind of infomation is needed for implementation?
For the deployment we only need your employee and project information.
What is a SaaS service?
SaaS (Software as a Service) refers to the acquisition of software as a service instead of the traditional license-based method. Customer-specific production environments do not exist, but the same production environment serves several customers. Customers use SaaS software via Internet browser, so the implementation of the software is easy. LogiNets' services are offered in SaaS model. Separate software installation is not required, so the introduction of the services is easy.
Nopsa Time Notes App can be downloaded on Android, iPhone and Windows Phone devices
Interested?
Then get in touch. Our experts will be happy to help!